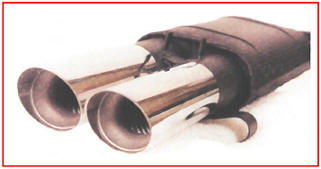 OUR SYSTEMS ORDERING INFORMATION TESTIMONIALS
Our company faithfully duplicates V-12 Ferrari exhaust systems in non-rusting, type 304 stainless steel. Install a Timevalve exhaust, and you'll never need to replace it. That's a promise. In over thirty years of manufacturing, not one customer has ever returned a system due to rust-out. We can confidently say that your new exhaust system will even outlast your vehicle.
When it comes to performance, Timevalve parts are near exact copies of O.E.M. parts in size and interior design. You may be confident that your system will perform just like your car's original, except that it simply will not rust.
In terms of appearance, some owners are happy with our systems' traditionally brushed stainless finish, but if you want your Ferrari to have that authentic look, we can also:

ALU oxide grit blast your system and spray it with high temperature flat black paint.

Apply high temperature red tape and the correct decals to your chrome tips.

Buff the stainless steel tips to a highly-polished finish or chrome them for the most exacting presentations.
And remember, we're not pleased unless you are. Time after time, our customers report that we go out of the way to ensure their systems fit well. Our stellar reputation in V-12 Ferrari club chat rooms bears this out. Customer satisfaction is our number one priority. But don't take our word for it...
Before you order, click HERE to read what proud Timevalve exhaust owners have to say about us on our testimonials page, or call us at 1-800-243-1170 for individual referrals.
Isn't it time your Ferrari sported a Timevalve?